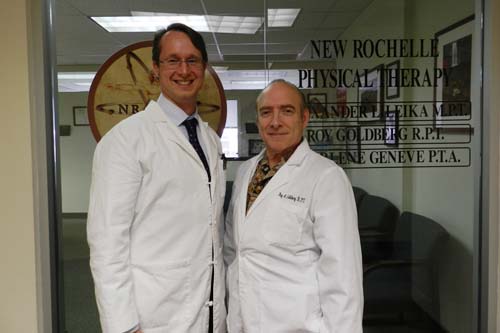 Alexander J. Lileika, M.P.T.
Owner/Physical Therapist
Alexander Lileika earned a Master's in Physical Therapy from the University of Scranton in 1997. Following graduation, Alex worked with an orthopedist treating college athletes. In 2000, Alex joined Bronx Physical Therapy as Senior PT. Rising quickly, he was advanced to clinical education director in 2001 and was promoted to Director of New Rochelle Physical in 2003.
Following a successful six years as Director, Alex became the owner of NRPT in 2009. Even as he looks to grow NRPT, Alex's first priority remains treating patients. In addition to managing and owning NRPT Alex truly understands the athlete from his experience in college competitive sports to his time studying and training in Jujitsu Alex has played lacrosse, hockey and soccer. He has started an evaluation and treatment for golfers to improve there handicap. His understanding of movements in the athlete has allowed Alex to create protocols for upper and lower extremities that benefit all age groups.
When Alex is not treating patients he is scheduling in-service education making NRPT one of the only self owned PT practice that has its own educational program and research. Alex enjoys his free time with his wife and 2 children.
Roy A.Goldberg, R.P.T.
Consultant Physical Therapist
Since graduation from Columbia college of Physicians and Surgeons Department of Physical Therapy in 1974, Roy A. Goldberg has studied neuroanatomy and its effects on movement with some of the leading practitioners in the field for over three decades.
Having owned three Physical Therapy practices in the New York area, Roy now serves as a consultant to NRPT and is a designer of exercise equipment. He also serves as an associate professor of Sports Sciences at Long Island University, having taught numerous courses including, Advanced Analysis of Human Motions and Physiology of Exercise. Roy has also been one of the examiners for the NYS Examination for PT licenses.
In addition to his vast Physical Therapy knowledge, Roy is an internationally recognized martial arts instructor. He is currently the East Coast Representative of the North American Daito Ryu Aiki Jujutsu Kodo Kai (NADRAKK). He has also served as an instructor for the New York City Police Department (NYPD) Police Club, where he worked with NYPD Emergency Services Unit (ESU). He also conducted quarterly seminars for the U.S. Special Forces, including U.S.M.C. Force Recon and U.S. Navy Seals. In addition, Goldberg Sensei trained and instructed the Head of Security for the 56th Secretary of State. He currently trains Federal Law Enforcement Administration (DEA) and the U.S. Department of Homeland Security (DHS).
This extensive background allows Roy to see the patient in a different light, combining western and eastern medicine and philosophies. He is also an avid rock climber and evaluates movement impairment syndromes which can effect the climber's maximum performance.
Please note that Roy Goldberg has retired from the practice Eff. Nov 2017. He is solely working on his martial arts, traveling for numerous seminars around the world.